By Contributor Sarah from Chickie Momma Crafts:
My boys, especially my oldest, is getting to the age where he loves to help me. I love to indulge this stage (since I know it won't last forever), but I have been leery to when it comes to cleaning because of the toxic cleaners. A few years ago when my youngest was diagnosed with asthma, we began using a number of non-toxic cleaners, but they are expensive and can really get expensive, especially when trying to keep the house clean with two little boys and a large dog! I really didn't want my oldest helping due to how much he would use and how expensive it was!!
After making my own laundry soap for the past few years, I decided almost a year ago it was time to do the same with homemade cleaners. I started with a few simple recipes I found online, but honestly was disappointed in the "quality" of clean. Yes, they were cheaper but they didn't seem to get things REALLY clean. After more research I discovered what I was missing-liquid soap! It has made a huge difference in the quality of clean I am now able to achieve. I must confess I still keep bleach and a few other "toxic" cleaner around. I still feel the need to bleach our toilets and whites now and again, but for the most part much of my cleaning even deep cleaning is done using natural or homemade products.
Now I am happy to have my oldest help me clean and not nearly as worried about how much he uses-however we do go through a LOT on those days.
My favorite liquid soap is Dr. Bonners liquid soap from Trader Joe's or Amazon. I prefer the peppermint one, but it is also available in lavender and tea tree as well.
I have found various spray bottles at the Dollar Tree and have found they last about as long and work as well as other more expensive ones. Just like my home-made laundry soap, I mix my cleaners up and fill reusable spray bottles or containers. I keep a small Tupperware container of borax and of baking soda in each bathroom under the sinks. I highly recommend transferring them from the cardboard box they come in to plastic or glass containers. This way if the package becomes wet, they aren't ruined.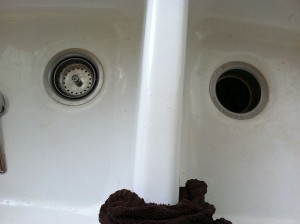 Sink Pre-Cleaning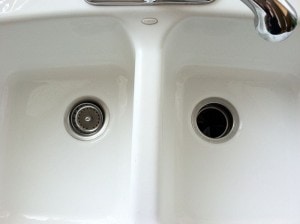 Sink -Post clean
Homemade Cleaner Recipes:
All purpose spay cleaner:
(counter tops, microwave, stove top, porcelain or ceramic surfaces)
1 gallon hot water (I boil mine-it helps the baking soda dissolve)
1 Tablespoon Baking soda
2 teaspoons liquid soap
Tub and toilet cleaner:
1/8 cup liquid soap
¼ cup borax
Brush and scrub on, wait 15 minutes and rinse.
Abrasive cleaner-(I use this for my kitchen sink)
2 tablespoons baking soda
2 teaspoons liquid soap
Scrub on and let sit 5-10 minutes, rinse clean.
Hardwood, tile and linoleum floor cleaner:
1 gallon water
¼ cup liquid soap
1/8 cup white distilled vinegar
Wood furniture cleaner:
½ teaspoon olive oil
¼ cup lemon juice