In parallel, I like to have a global view of what is happening on my computer network at home.Know how is my bandwidth, know the status of my servers and NAS, who is connected to my TeamSpeak server or on my VPN, etc …
I also love to know what the phase of the moon, and know the sun from the earth during the day, time of sunrise and sunset … The monitors NASA, like we see in movies, make me some effect

So now, a relatively simple but very fun, a dashboard screen project to gather all the data

Prominently above the bar that separates my kitchen from my living room, here's what happens: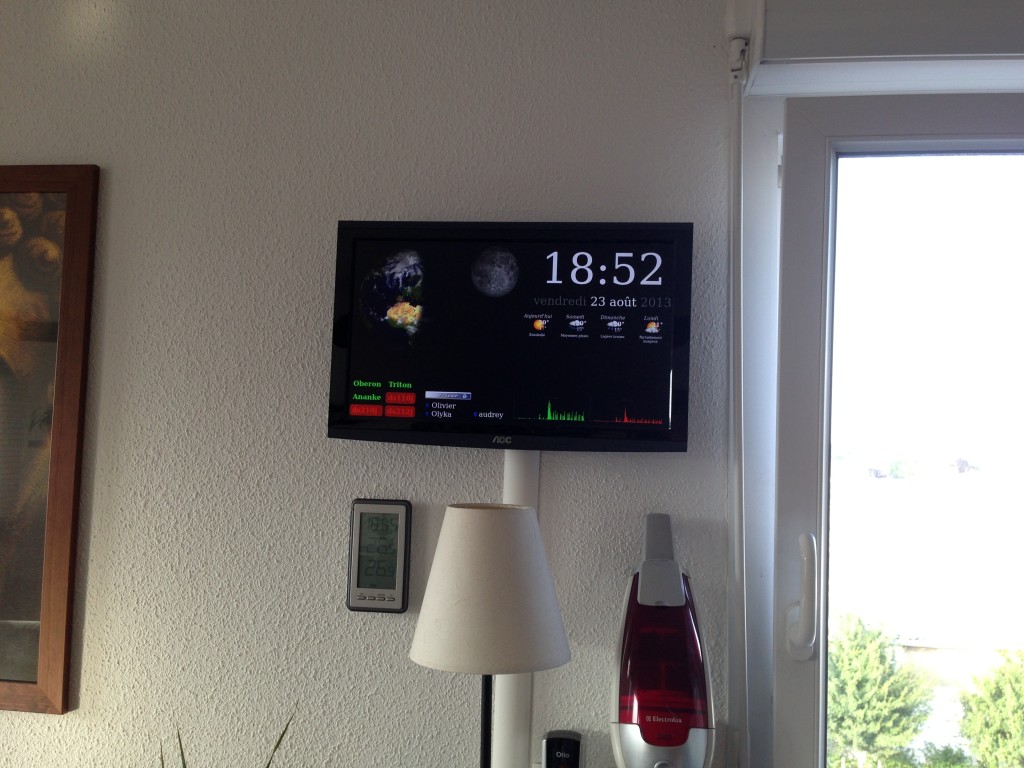 This photo shows the thing in its final form, neatly mounted on the wall.
Detail
Here's a list of information that is shown in this screen:
Phase mapping of the earth with clouds in real time
Moon Phase
Time
Date
Today's weather
Weather forecast for 3 days
State of the servers and NAS
TeamSpeak client connected
VPN clients connected
Internet bandwidth
I add from time to time features, as long as there is space to display information. The important thing is that it is visible / readable from anywhere in the room.
Here is what it looks like in detail (click to enlarge):

The necessary equipment
Unlike my other projects here Raspberry Pi and screen enough … Besides, you can use something other than Pi, including an old eeePC or laptop to stay in the compact

A ​​standard tower will also be the case if you can hide. I just added a WiFi dongle to connect to the network because no Pi RJ45 arrives at this place. A wall bracket to hang the screen on the wall and a chute extra flat to hide the power cables. If you choose to place your screen above your fridge for example, you save buying these two accessories.
For the screen, choose the cheapest. Prefer LED, thinner and consume less screens. They generally offer a wider angle of view (useful when we walk in the room), and a higher brightness. If you want to hang on the wall, it must have biensur bindings VESA compliant. For the size, it's like you want, and it depends on what you want to see. However, remember that a screen over 20-22 "quickly becomes cumbersome … I therefore recommend a screen between 16" and 20 "in 16/9 format (more cosmetic than 4/3), with a fine edge (always for the sake of aesthetics

).
Here in detail what I chose:
In future articles, I will explain how to easily create this type of screen and I will publish all my source code detailing the operation of each module.
As always, I repeat , I count on you to feed the thing, share your opinions and ideas for improvement. If you make something like this, it could be great to create an app with a library that would include all modules created.